Welcome to Bow Wow Daytime Retreat-
Everyone loves a little vacation. Your pup is no different. Instead of leaving your pet at home to get into trouble while you're away, Bow Wow Daytime Retreat allows your pet to exercise, relax, and make new friends.They will have a blast at the retreat playing in the ball pit, obstacle courses, playing fetch, and of course napping. Every dog loves to nap. Drop your dog off in the morning and pick them up in the evening! We also offer birthday party packages for your furry, four-legged children. All of the info that you need to get started can be found here. We look forward to seeing you and your pet soon.



-Tether Tug
-Bobbing for Treats
-Limbo
-Tunnel Races
-Ball Pit
-Obstacle Courses
-Sniff It Out
-Tossing/ Fetching
-Wet and Wild Fun
-Dance Off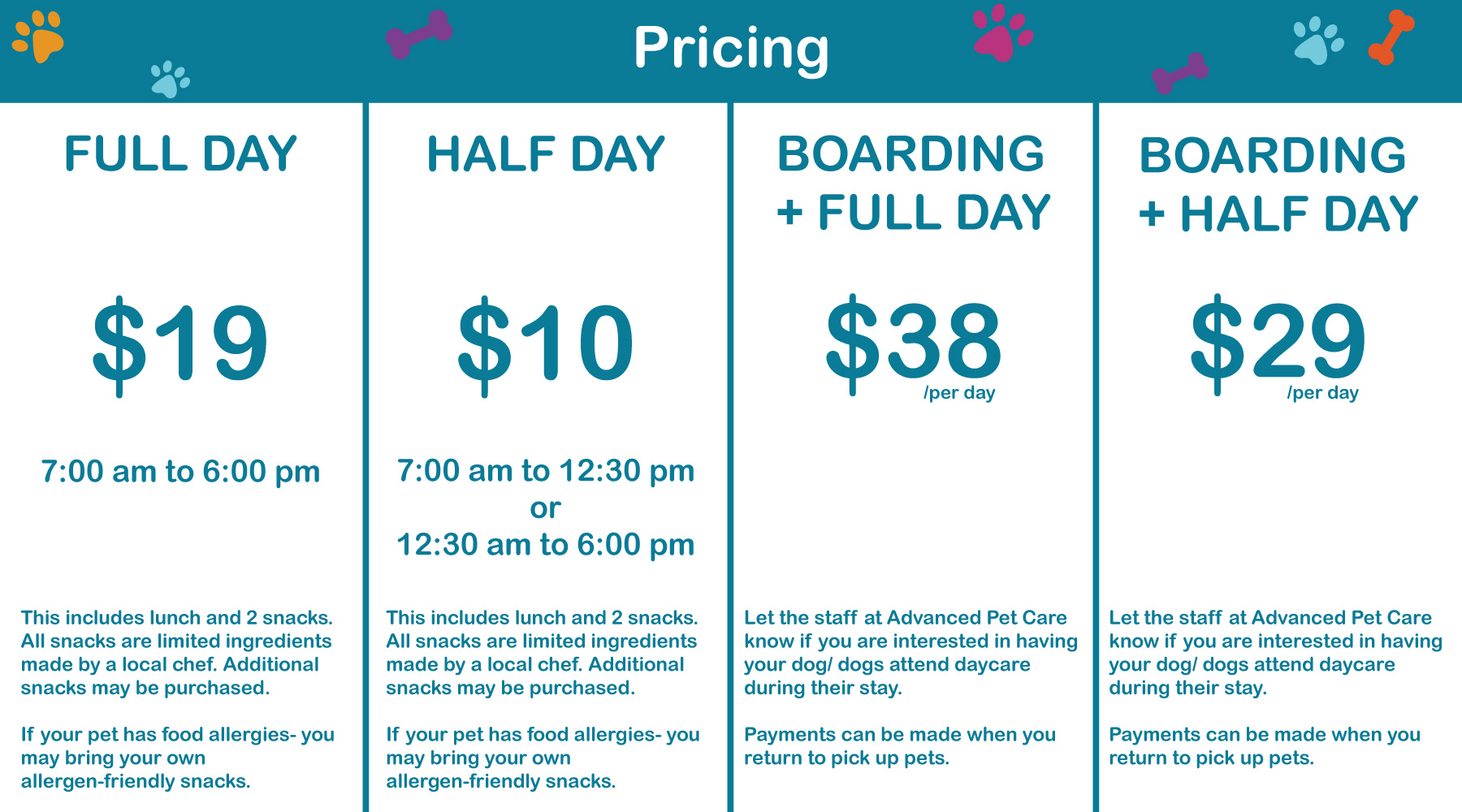 Monday- Friday
– 6:45AM– Early dropoff
– 7:00- 9:00AM– Drop-off and check-in. (Dropping off during the scheduled time is critical to maintain safety so dogs can be properly supervised at all times)
– 9:00-11:00AM– Group play/daily scheduled activity.
– 11:00AM-12:00PM– Individual playtime/naptime. (Pets with a noon feeding will be fed and each pet will receive treats, hugs, and one on one attention)
– 12:00-2:00PM– Naptime/individual time continued. (We take a scheduled naptime to ensure your pet doesn't over exert themselves while playing with his or her friends. Also, dogs only playing half a day can be picked up at that time.)
– 2:00-4:00PM– Group playtime
– 4:00-5:00PM– Individual playtime/attention (For those who just need an extra hug)
– 5:00PM-6:00PM– Pick-up (Pets that are not picked up will be checked into boarding at Advanced Pet Care. Boarding cost is $19.25 per night.)

-Read and sign enrollment packet
-Must pass a temperament test
-Must be 15 weeks or older
-Must be spayed/ neutered
-Must be current on vaccines
-Must have a negative intestinal parasite screening and be routinely dewormed
-Must be current on monthly flea, tick, and heartworm prevention